Songkran only comes once a year (thank god) and it's the time for all the kids and child minded to roll up their sleeves and dig out their super soakers. Songkran is a new year festival celebrated in Thailand, and some other South East Asian cultures. In Thailand it's celebrated normally from April 13-15, with few exceptions such as Chiang Mai where the party goes on for 6 days. Songkran has a long history and traditions of which relate to purifying by throwing water upon others.
Personally I have had my Songkran fun over the years, and these days I just prefer to go somewhere quiet and hope being isolated enough to escape the – sometimes fierce – water war. Usually I fail, which was the case again this year.
My holiday travels are quite limited to Wisa's Thai labor law holidays, but Songkran is one of the few times in a year when we can escape Bangkok for longer than 3 days. This year we chose Ko Kut hoping to stay dry.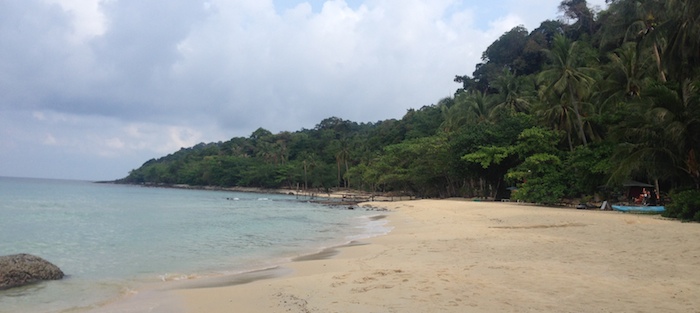 Ko Kut (or Koh Kood) is a prestige island located in south east Thailand near the Cambodian border. It's also Thailand's smallest province with population of 4000. The pier Laem Ngop located in Trat province is about 6 hour bus ride from Bangkok following a 1.5 hour boat ride to the island.
The island itself is quite big, but in a very natural state like some of the other small islands in Thailand (Koh Mak, Koh Phayam etc.). There are two waterfalls few mountains (well hills really), couple beaches and a small fisherman village. That's pretty much it. There is not much to do, besides the usual snorkeling, kayaking and trekking. Suited us perfectly, as the goal of the trip was to do nothing. There are few little minimarts where you can find the basic things, but unless you rent a motorbike it might be difficult to find them. Some choose to bring goods from the mainland to consume.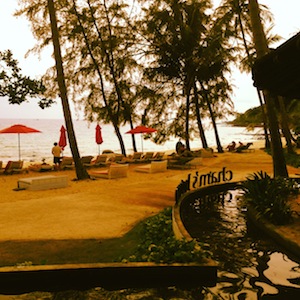 We stayed at a resort called Cham's House, which – despite the amazing facilities – had some of the worst service I have ever encountered in Thailand over the years I have been here. It just went wrong from the beginning. I'm not going to go into that, as it would be shorter to list what they did right than the other way around. 5 star facilities – 1 star service.
We rented a motorbike to drive around the island. Visited one of the waterfalls and drove to the fisherman village that was on the other side of the island. Some cool views and local drunk fishermen singing poorly in a shady karaoke bar! And literally the whole village was exposed to that – no way to escape.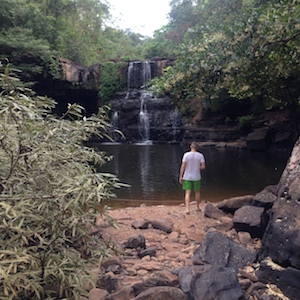 Driving around the island we were of course asking for trouble, at least to get wet. In front of almost every house the kids had a water station where they would throw water on all the by passers. Luckily it was ice cold, nor no one had urinated in it, nor put any peppermint or other flavors that are really pleasing when hitting the eye.
Driving a motorbike on a small island with amazing views is some of the best relaxation there is. It's completely different experience than driving a motorbike say, in Bangkok, which is a more nerve wrecking experience.
The resort had a nice looking spa, which we tried out. I have to say that this was one thing that was spot on with quality and service. For 90 minutes I was completely in a different world.
The batteries are charged again.