It finally happened. For a number of boxing fans a dream came through. After years of waiting Manny Pacquiao and Floyd Mayweather finally stepped into the same ring. Was the waiting worth while? Yes and no… Many questions were answered, while lot of speculations continue.
The fight – coined as the "fight of the century" turned out to be somewhat of a disappointment to many, who expected to see a world class bout.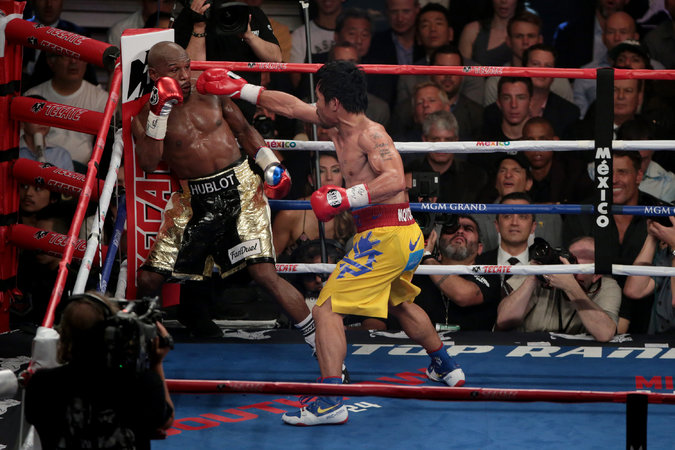 Manny started of slightly stiff while Floyd maintained his distance and style. Nothing ground-breaking in the first two rounds. In the third round Manny started to add pace and both gained hits. Fourth was probably the most action packed round of the whole fight and Floyd looked to be in trouble a couple of times, while Manny delivered in couple of good crosses and body shots, followed by flurries. After the fourth round the pace slowed down. Manny chasing, Floyd running away. Twitter filled up with amusing tweets after the fight 'accusing' Floyd for running away and hugging instead of boxing. This one in particular: "I wish my girlfriend was more like Floyd, when we fight he would just hug me".
Now, who won the fight? According to the judges Mayweather by unanimous decision. Should it have been Pacquiao? Perhaps. At least I thought so, but not an easy one to call. Manny delivered better and stronger blows which impacted the opponent more than the other way around, which to me is the nature of professional boxing. Had we been watching an amateur boxing fight, where jabs and running away more often are keys to victory, I would have agreed more with judges of this fight.
Was Manny robbed? I don't think so. When you are fighting in the opponents home ground, the best way to victory is to be clearly better and leave nothing to speculation. Manny & his team knows this. Knock-out leaves nothing to judge, but isn't always necessary. When things go as tight as they did in the Pacquiao – Mayweather, the judges are more likely to see their own fighter in a better light. It's not the first time in the boxing history and likely not the last time either.
Would I have wanted to see Manny win? Absolutely, as most of us, I think Manny would have deserved to win this one. But as Mike Tyson said, Floyd waited Manny's best years to go by and only then agreed to fight. His boxing style supports older age, while Manny's best years as an aggressive fighter are perhaps gone.
What about the shoulder injury? Well, injuries are something that anyone in the game of sports face. There are very few exceptions. As a boxer you have to overcome them or postpone, which I think could have been an excuse to Floyd to call off the fight. I think it was a display of bravery from Manny to step in the ring, even though the Nevada Athletic Commission denied him to take pain relieving injection to cope with the injury.
Did Floyd out-box Manny? In terms of avoiding to get hurt, (excluding round 4) yes. In terms of counter attacking to deserve to win, no. So, what is really the take-out? A boring fight? Many seem to think so. Definitely not a fight of the century.
Rematch? Would you really want to see one. These guys are not in their 20's anymore. Every year or even a month that passes by these two will not get any better. Floyd with his passive – counter punch style could probably go on a couple of years, but really what's the point? In his eyes he has shown the world he is the one and only, and now there's no one left. He has made all the money and is very unlikely to fight outside of Las Vegas, where his boxing is appreciated by the judges. In order for the rematch to end in a different outcome, we would have needed Manny five, six, seven years ago, and that's not going to happen.
To me personally Manny Pacquiao remains the best of our time (21st century so far that is). An incredible style and speed made his fights the most entertaining boxing since Roberto Duran and Sugar Ray Leonard. A personality that made boxing outside the ring about boxing and not about clean record or money. Someone who never said "no" to a fight. Manny Pacquiao is a true boxing legend that will not be forgotten, while Mayweather (and his team including Nevada judges) will not hold such place in the history books.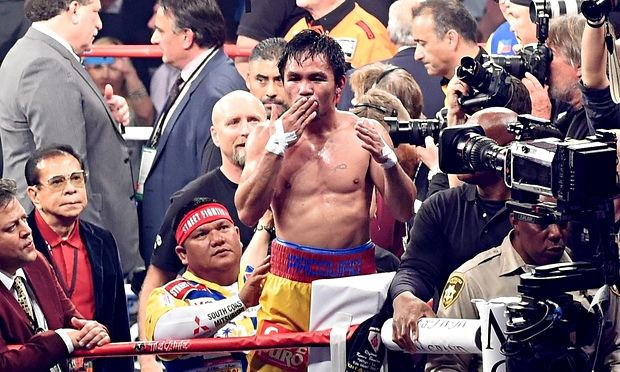 Perhaps Las Vegas should not be the home of big pro boxing fights in the future. Or perhaps it will remain the only location where money is valued over everything – including big fight payoffs to the boxers. Time will tell.