Hotel booking, especially in Thailand, can be sometimes slightly challenging. There are so many options to choose from. Not only discovering the most suitable from the endless hotel offering, but also finding where to get the best price for the chosen hotel. Usually the online hotel booking services are the places to go, as they tend to offer better prices than booking directly through the hotel website, although not always. The big players in the field of online hotel booking such as Priceline.com with Agoda and Booking.com, and Expedia with hotels.com have been dominating the scene for years, but it seems that more and more new players with different concepts are moving into the lucrative hotel booking market.

I was recently introduced to one of the new comers called Hotel Quickly. They are targeting mobile only bookings through an app, which is available for iOS, Android and BlackBerry users. The founding team behind the app is also quite convincing, including startup veterans and former Foodpanda.com executives. Hotel Quickly tapping into the fastest growing ecommerce market in Asia – smartphone users – doesn't really come as a surprise.
Enough with the introductions; lets dig into the app review.
App overview
The concept of the Hotel Quickly app is quite simple. The aim is to book a hotel for tonight, not a week or a month in advance. They have chosen 10 hotels for each destination, so choosing the most suitable one doesn't require hours of browsing and comparing. Booking is aimed easy, just choose your hotel, book it, and get confirmation.
User interface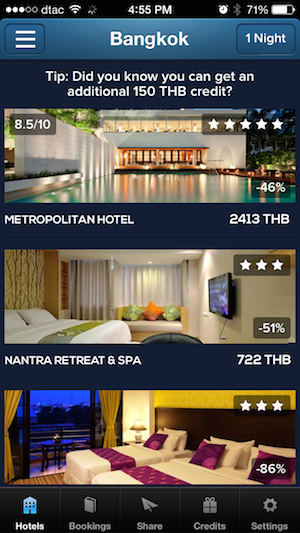 The Hotel Quickly app user interface is divided into five main sections: hotels, bookings, share, credits and settings. In the hotels section the app automatically finds your location and offers you hotels near you. You can choose your target country and city and then the hotel. Booking section gives you an overview of your recent bookings. It also works in offline and can fetch the latest booking details without internet connection.
Sharing section allows the app users to earn free credits by inviting their friends to join, which is actually a very good way of expanding the app user base quickly. Credit section is where the user can view their credit balance and redeem more credit by entering a promo code.
In the settings section the user can change their preferred currency, add a credit card, and change the other user profile settings. It also gives more information about the app, such as FAQ and shows their policies and terms. One thing that was really cool to see here is that they are also linking from the app to their open job positions and guidelines for hotels how to be included in the selection.
User experience
Downloading and getting started was fast. They offer facebook login or a stand-alone login, which literally is three lines: name, email and password.
The Hotel Quickly app is really simple and easy to use. Hotels are displayed in a quite traditional listing way, where by clicking the hotel the user is taken to a hotel info page with more detailed description, such as overview of the hotel, information on facilities and need to know details and location on map. Seems like the information presented is well thought through, as there is not an information overflow. They also state why they have chosen a particular hotel. On the top right corner the user can choose how many nights they would like to stay.
One thing that caught my attention was that there is no search, which I find very effective for the usability. Search sometimes makes an app slow. The countries where hotels are offered appear in the main hotel section menu.
Booking the hotel was as easy as using the app overall. However, when booking the hotel during the weekend, there are a lot less availability in the hotels that are offered. Also prices varied quite a bit when comparing during the week to a weekend. Also many hotels didn't offer more than one night at a time, which makes planning a longer trip quite difficult.
Conclusion
I really liked the simplicity of the Hotel Quickly app. They have tapped into an interesting area of hotel booking: last minute, and through mobile. Bookings can only made on the same day as check-in.
The referral program within the app seems very effective. I sent out invitations to a few friends, who then couple days later came back and said they had been sending it forward to get free credit.
In the hotel booking app market Hotel Quickly app ranks very high, comparing apps such as Agoda and Booking.com, which are not very user friendly and sometimes rigid to use with mobile phone.
If you would like to try out Hotel Quickly App, you can download it at by clicking the links below. By entering promo code: EETUZ you get free hotel credit worth 500 baht ($15).