*Edited March 14 2016 with hat tip to Mike Mason
The Chinese Visa Application Service Center has moved, as of Sept 2015. The new address is now 5th loor,1550 Thanapoom Tower, New Petchburi Road, Makkasan, Ratchathewi, Bangkok, Thailand, 10400. Visa / Passport photos are available on the 2nd floor, as are computers for printing out forms or documents. It is located at the Petchburi station on the Metro.
Applying for a Chinese Visa in Asia and especially in Bangkok as a foreigner can be troublesome. After a quick search through related forums can even increase the level of headache as everyone seems to give different advice. It doesn't help much that some of the information is dated back couple of years.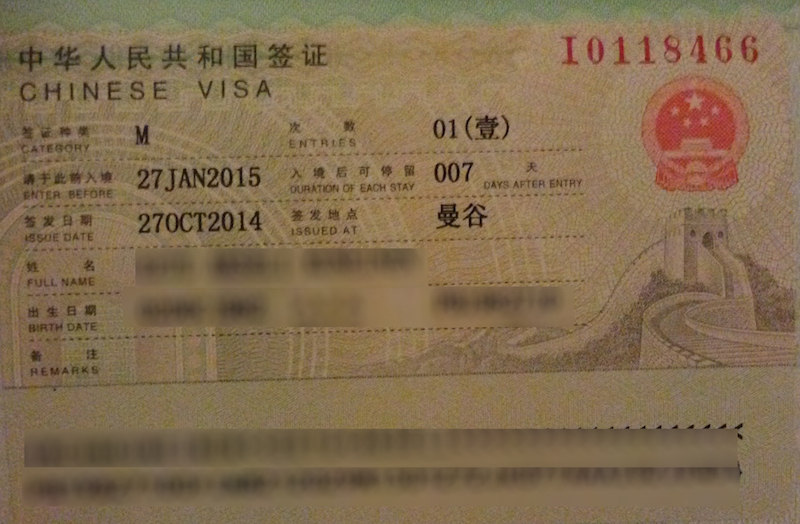 There seems to be a discrepancy regarding what documents are required for Chinese Visa application. Looking at the information on Chinese Embassy Bangkok website it seems like an easy process, but reading comments online makes the whole thing quite a lot messier. Calling the Chinese embassy service isn't much use either. I tried 3 times: morning, after lunch and before office closing without any luck. The last frontier seemed to be just to go on-site and see how it all goes.
We arrived after 9am Monday morning at the Chinese embassy gates in Ratchada Soi 3, nearby where I used to live years ago. The Visa section is located in the building on the left hand side opposite to the embassy gates. They had a handheld metal detector device and a metal detector gate, which both beeped literally for everybody, when walked through, but along everyone else we were told to just go ahead. The meaning of the whole thing remained a mystery along with a number of similar encounters in the past. I guess they just support employing locals. Go figure.
Inside the Visa section we were given application forms. The four pages long document was quite standard to any visa application, but went into details perhaps more than other countries visa application forms. They have a photo service inside, which seemed to be fairly priced. Printing service was 20 Baht per page and copy service 3 Baht per page.
On the website it states that to apply Chinese Visa the following documents are needed:
Passport & copy of Passport data page
1 x colored passport photo
Application form
Copies of previously issued Chinese Visas
Then for different Visa classes additional documents are needed (listed here: http://www.chinaembassy.or.th/eng/zgqz/sqzn).
For business visa the only mentioned document is an invitation letter from the inviting company in China.
At the visa section they however have slightly different information. They have a big sign on the entrance stating in English that the basic requirements are:
Airplane ticket
Hotel reservation
And below that it says: please arrange the following documents:
Form A and B (there is only one form, so don't worry)
Photocopy of passport data page, Thai visa, last Chinese Visa (if you have it, if not don't worry)
Letter of Employment (seems strange for foreigners, but apparently it's needed)
Invitation letter (for business visa – on the website it says it is needed for other visas as well)
Bank statement
So, we prepared all the documents above and printed it out. Our queue number was 165 and we had a hefty 100 people in front of us. Luckily I asked from the security guy where the toilet was and he was kind enough to hand us the queue number 141 when I came back.
At the counter it finally was revealed what documents were needed for Chinese Business Visa (at least this is what they took from the whole pile of documents we had printed out):
Passport copy of the data page and re-entry stamp page (might be a good idea to prepare the visa page and entry stamp & T.M6 departure card, although they didn't require it this time)
Copy of work permit in Thailand (only if you are on a business visa in Thailand)
Application form & 1 x colored passport photo glued to it
Original invitation letter (we just color printed it)
Letter of Employment (and company certificate, which we had printed out just in case)
The rest including hotel reservation and flight confirmation was not needed. Also they didn't ask any bank statements. Also the express service was not available, so the process took four days. The price for single entry visa for non-US citizens is 1200 Baht and US citizens 4560 Baht (apparently the US charges more for Chinese than others to enter as well, so fair play, I guess).
When you pick up the visa there are two queues: one to pay the fee and another to collect. Pay the fee first and then collect. Pickup time is 9:00am, but the queue was cleared out around 10-10:30am, in case you feel that waiting in the queue isn't your time well spent.
For tourist visa document requirement, I would follow what they stated in the photo below (taken October 2014).