If you run a website that publishes content there is a high change that you have received an email like this before: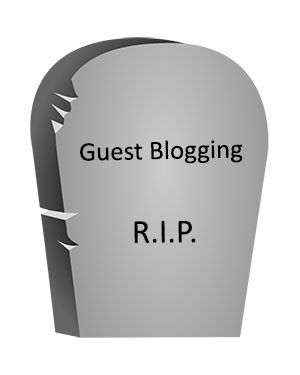 I would like to express my interest pleasantly to become a part of your eminent platform as a Guest Blogger. I am confident about that you will definitely like the following Guest blogs with exclusive title/topic. Currently, all these posts have become the most liveliest conversions among the readers. The blogs offered are

100% original
Well written
Relevant to your audience and
Exclusive to you

I'm sure that you will love to read my proffered featured blogs & you would emphatically admire my quality-rich, precise, keyword-oriented & search engine friendly write-ups on different topics on your website. The blogs, offered by me for your website, are absolutely free of cost. And as rewards, I just would like to gain backlinks for www.myclientsdomain.com from your end.

Please Note: Hopefully, I will get your reply as early as possible (expected: "within 3 days"), else my forwarded content will be sent for publishing on the other websites.
Guest blogging, as it's called, in exchange for a back link used to be one of the most popular way to get links after Google started to pay attention what kind of links the websites were getting, instead of just counting the number of the links, or purely relying on the Pagerank of the linking page.›› continue reading