If you run a website that publishes content there is a high change that you have received an email like this before: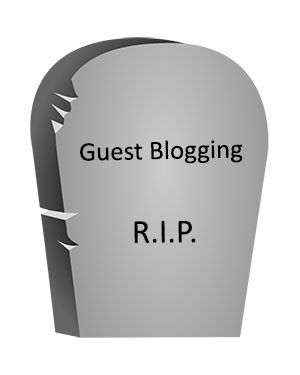 I would like to express my interest pleasantly to become a part of your eminent platform as a Guest Blogger. I am confident about that you will definitely like the following Guest blogs with exclusive title/topic. Currently, all these posts have become the most liveliest conversions among the readers. The blogs offered are

100% original
Well written
Relevant to your audience and
Exclusive to you

I'm sure that you will love to read my proffered featured blogs & you would emphatically admire my quality-rich, precise, keyword-oriented & search engine friendly write-ups on different topics on your website. The blogs, offered by me for your website, are absolutely free of cost. And as rewards, I just would like to gain backlinks for www.myclientsdomain.com from your end.

Please Note: Hopefully, I will get your reply as early as possible (expected: "within 3 days"), else my forwarded content will be sent for publishing on the other websites.
Guest blogging, as it's called, in exchange for a back link used to be one of the most popular way to get links after Google started to pay attention what kind of links the websites were getting, instead of just counting the number of the links, or purely relying on the Pagerank of the linking page.
Is Guest Blogging dead as a link building tactic?
No, it isn't. Simple as that. But what about Matt Cutts, the head of Google's Webspam team, who just recently stated in his blog that:
"… guest blogging is done; it's just gotten too spammy. In general I wouldn't recommend accepting a guest blog post unless you are willing to vouch for someone personally or know them well. Likewise, I wouldn't recommend relying on guest posting, guest blogging sites, or guest blogging SEO as a linkbuilding strategy."
Well let's think of two scenarios:
Scenario A: Warren Buffet writes a column in Financial times covering investment (I don't know if he even writes columns, this is just an example, stick to the main point…) and links to a investment related website from that column.
Scenario B: An Indian (could be anywhere though) SEO magician called "Steve" approaches a blog about football to submit a guest post about mobile phone reviews to link back to his clients mobile phone business website.
Both scenarios would be 'Guest Blogging', but would either of them be useful from SEO point of view? I know… What are the odds of getting Warren Buffet to write a column, from which he would link back to your website, at least if you asked him to, so I might have gone over board with that one. Point here being, that well targeted high quality Guest Blogging as a link building tactic is not dead. It's all about levels and how you look at it.
There has been a lot of talks lately about the whole area of link building being dead. Some have come up with new sexier and more describing names for it such as 'link relationship building' or 'link partner management', since it has changed it's nature according to some. Call it what you want, it's not dead, as long as links are a major factor in Google's SERP algorithm. Some of the old link building tactics may be dying or already dead, such as directory submissions, comment spamming and now spammy guest blogging, but the importance for any website to get new links still remain the single most vital part to receive high Google rankings.
Eric Ward wrote a brilliant article on link building being waste of time where he listed a number of link building tactics and how they don't work. The point was that nothing really works if you only choose to see it from one point of view. From another point of view it can be the biggest success. The same goes to guest blogging.
So why does Google put out signals like this? Those who use Google products know that they are not the customer friendliest company in the world to give guidelines. Need proof? Try to sign up Adsense for a new blog. But then again, why should they be? They are the internet in a way. They don't have to give guidelines about things that are not important for them. Think of a search engine. It indexes websites and displays them in the order it "thinks" they should be. Great. Then along comes SEOs who try to manipulate that order. Without wanting to sound like brown nose, I think Google and especially Matt Cutts has done a great job working together with SEOs trying to come up with some kind of mainstream guidelines what SEOs should and should not do. Those of course change along the algorithm changes, and sometimes hurt a website's traffic that isn't keeping up with the latest.
To sum up: Guest Blogging is not dead.