Vacations are luxury that I can rarely afford. This time was different though: Wisa won flight tickets for two to Tokyo at her company's Christmas lucky draw, so I had no excuses to take time off.
While having traveled in South East Asia quite extensively, I had previously missed out Japan completely. I used to live in a Japanese populated area in Bangkok for few years, so I wasn't entirely off guard what to expect, but was still blown away – positively so. Unfortunately we didn't have a tour guide, but still we managed just fine.
Being such a huge city (13 million population), Tokyo is incredibly organized. Everything works, I mean everything really works. The airport reminded me of Hong Kong in some ways: it was easy to get from the airport to the center by train/metro. 60 km was done in about 40 minutes and boom, we were right in the middle of the action.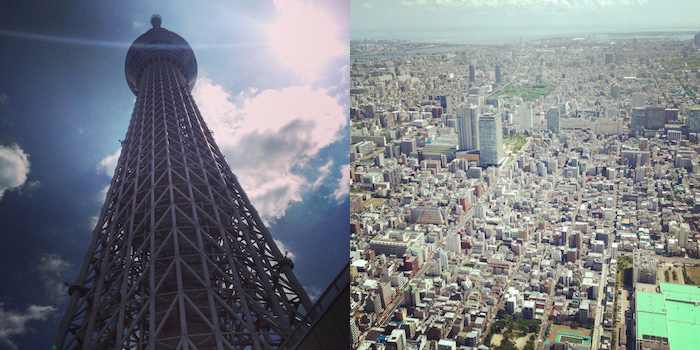 The hotel we stayed in was in a walking distance from the Tokyo station, and after a few broken English consultations we found it quite easily. The hotel, Sotetsu Fresa Inn Tokyo Kyobashi, was quite new and very clean. The room was really small, but served it's purpose for us as the base during the 4 nights stay. Check in/out times were slightly strange: check in at 3pm and check out at 10am. A bit of a stretch from the international standards, but definitely leaves them time to clean up and do hand stands and perhaps other acrobatic moves in between.
Day 1
We didn't stand still much, as we wanted to dig into Tokyo's wonders immediately. I'm a terrible holiday planner. I'm more of the happy go lucky –type of holiday traveler. Fortunately Wisa had everything worked out.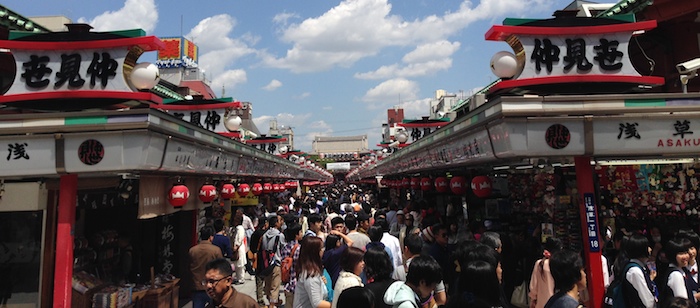 First stop was a temple… Well, you gotta see one, I guess. It was quite like what I expected, but nevertheless worth seeing. It was a holiday in Japan so the area nearby was filled with school kids enjoying their free time at a shopping street leading to the temple.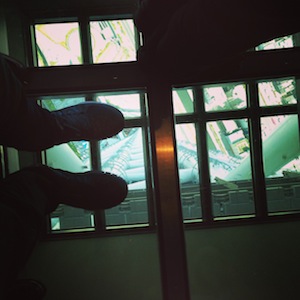 Second stop for the day was the Tokyo Sky Tree. I have to admit – this was sort of on my list of things to see. After 2 hours of standing in a line, we finally reached the first level that was 350m high! The tower itself is amazing piece of architecture. It looks like something between the Eiffel tower and a radio mast. The view is absolutely stunning. Pictures speak more than words. They also have a glass floor on which you can stand on and look down. I do have a slight fear of heights and looking straight down from 300+ meters really gave me the goose bumps.
Day 2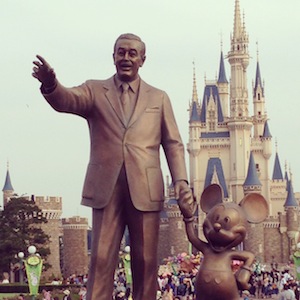 The second day was Disneyland. Yes, Disneyland. Well, that was not on my list, but sometimes in a relationship, you have to make sacrifices. Personally I'm not a huge fan of crowded places, especially with whining kids. The day was filled with taking photos – the price you pay for having an Asian girlfriend. Well, it wasn't all that bad, to be honest. I quite enjoyed the 3D Star Wars ride called Star Tours. Everywhere the queue was an hour plus long.
Day 3
Day three was more like my kind of day – action packed. We started from Ueno Park, which was really nice change from the busy city. It's a massive park area, easily accessible by metro. There's a famous street shopping market nearby called Ameyoko. Very similar to Bangkok's Pratunam. We did a quick walkthrough.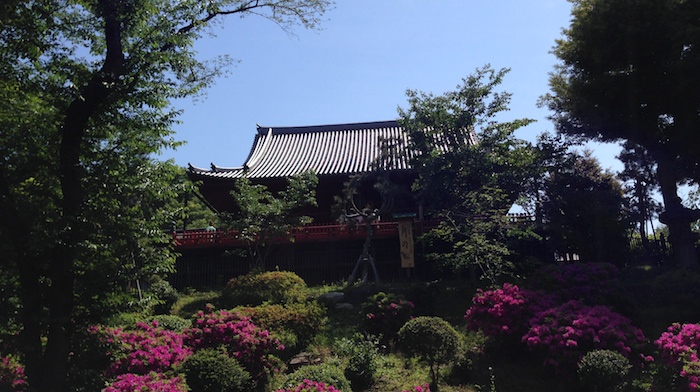 Next we headed to Akihabara area, which is famous for IT and electronic malls, and yes, sex toyshops! Now, I don't know whether is a result of coincidence or brilliant marketing, but that is the case there. We went in an IT mall that resembled the Panthip or Fortune Town in Bangkok. 8 stories of various IT goods – heaven!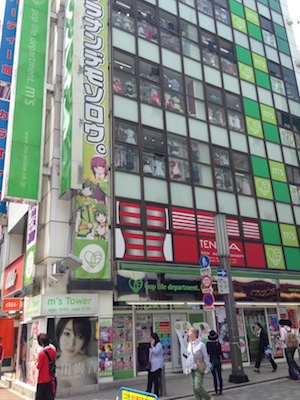 Since we were in that area, (out of a mutual agreement!) we walked into m's tower, which covers 7 stories of sextoys. Having worked in an adult oriented shop in Helsinki, I don't easily get shocked in this field, but I have to admit that there were certain items that caught me off-guard. I am not saying that every product there should belong to every household, but a pre-teen realdoll might be pushing it.
Final stop was Harajuku area, famous for it's teenage culture and fashion area. Well, being Sunday, it was rather crowded to the point where I decided to head to a local pub, while Wisa was doing her shopping. Despite the friendly advice for the best burgers in town from US military at the pub, we decided to head for local food for dinner.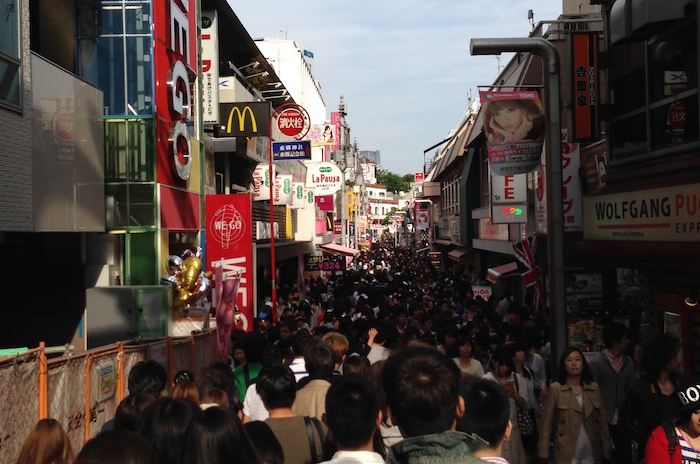 Day 4
It's just getting better every day. We woke up early and headed to the Fish Market. Quite an experience. We started the day with a sushi breakfast – the best sushi I have had in my entire life, hands down. Walked around the area. Locals selling fresh seafood, packed with people – both tourists and locals. Stopped at a local café to write a few postcards – something I haven't done for a while!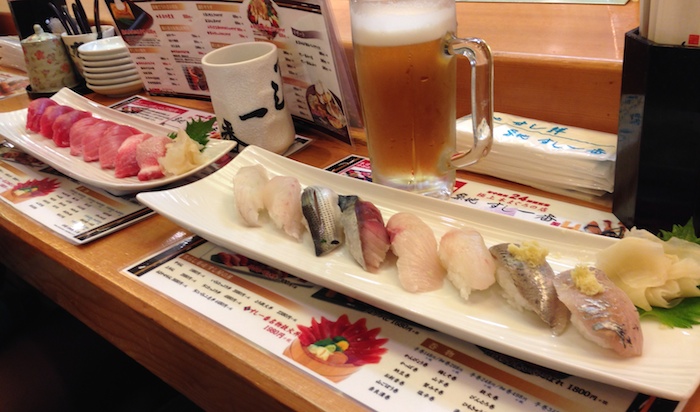 The next destination was Shibuya for Wisa's last minute shopping. Since there was nothing else than shopping malls to see in the area, I headed to a pub (again!). Found a very nice Irish pub nearby. It was all local clientele, so I blended in just fine.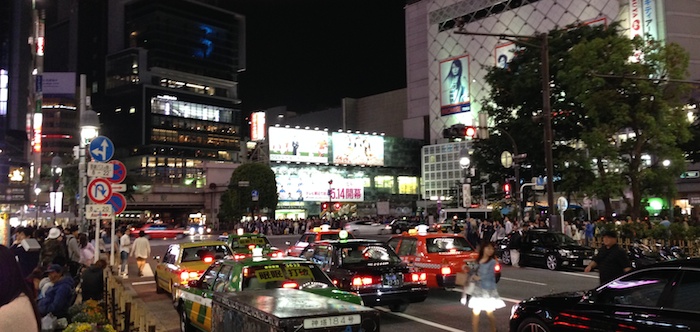 The last stop was Hooters that Wisa had spotted while doing her shopping. What can I say, Hooters is Hooters – a nice family restaurant!
We obviously had lunch and dinner every day, but I usually don't write down the names of the places. Maybe I should. Writing about them would be like "that cellar place with the funny waitress and great curry". The point is that I didn't have a single meal or even dish to complain about. During the whole trip! Every place we ate had fantastic food. Naturally we had some miscommunications of what we ordered, but hey, it's Asia.
My biggest take-outs from Tokyo:
• Metro works incredibly well, although the whole thing might be confusing as first
• You don't have to speak Japanese to get around
• Everything is really clean
• Food is amazing
• People are a lot more friendly than I thought
• As an Asian city it's at the expensive end