I like having guests. Living in Bangkok doesn't unfortunately allow that too often, because of the holidays in the west, so everyone tend to time their Thailand holidays towards the dark and cold autumn/winter period. The past week has been quite hectic on the guest storefront. First, my younger sister and her husband came for their honeymoon (Congratulations!) after cleverly avoiding the wedding ceremony and reception back home. Smart move, I have to admit. They stayed for a day and headed down South to Koh Lipe before returning via Bangkok back to Finland. Then an old childhood friend of mine and his girlfriend arrived in Bangkok to start a 3-months Asia tour, which to be quite frank I am jealous of. And finally, my parents landed on Thursday to add to the soup. So, I transformed myself into a Bangkok tour guide for the past week.
This is what we went through:
Monday
I introduced my friends to MBK – one of the busiest shopping centers in Bangkok, since their hotel was nearby and it was their first visit to Bangkok – to start with something easy ;). The usual Phad Thai noodle joint in the food court had sadly pumped up the price, again. We toured around the Siam shopping district for them to have an idea what that's all about: Siam Discovery, Siam Center and Siam Paragon. Enough Siams to mix their heads!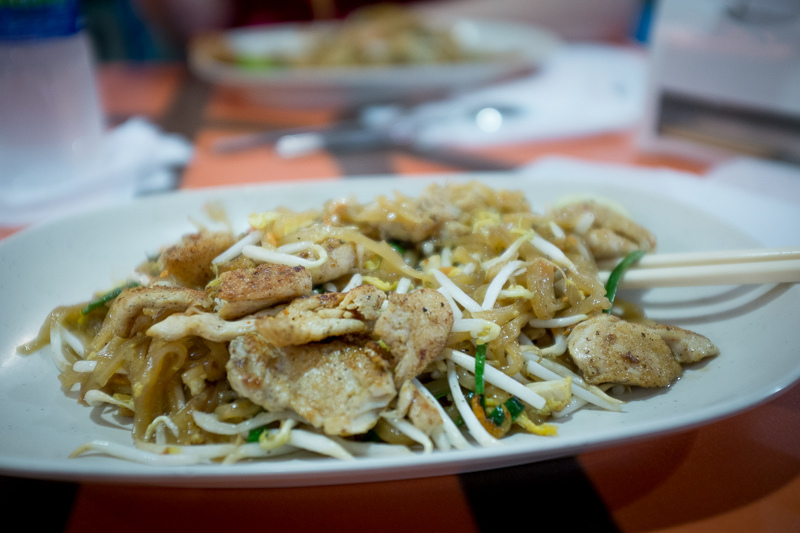 photo credits: matkalta.com
After a short power nap, we met for a local style dinner at Ban Rai Café in the corner of Ekamai with my friends and Wisa. Simple stuff – classics that you can never go wrong with. Beer tower and a good variety of different style Thai food.
Tuesday
We kicked the day off by going to wander around China Town or a strip called Yaowarat. It's better in the evening time, when all the food vendor appear, but it did the trick during the day time as well. I am so used to most of the "weird" things these days, so I can't appreciate the cultural nuances anymore. Just to mix up the soup a little, we headed towards the Indian part of the town called Phahurat, where we had lunch at a famous Indian restaurant called Royal India.
After lunch we headed for coffee in Central World and to see some specific music shop there. Next was one of must do's: a Thai massage. There are good ones and not so good ones. One of the trusted places is located on Sukhumvit soi 37/1, which supposedly is a branch of the infamous Wat Pho Massage School. Not sure, since this one is aimed for Japanese clientele and all the signs are in Japanese. In any case they know what they are doing and it's works every time.
My sister and her husband, who just returned from Koh Lipe, joined us for dinner at a local barbecue place called Best Beef nearby their hotel in Onnut. Best Beef is great. It's an all you can eat for 219THB (7USD), which includes a variety of meat, seafood, vegetables, mushrooms soups etc. Focus was on meet! The beer wasn't bad either, and served in towers. We ended the night with drinks at our condo and sent the tired guests to bed.
Wednesday
I had to catch up on some work related matters, so "took the morning off". We met in afternoon with the party nearby my condo and headed to a local pier, where a shuttle boat that normally carries locals to work and back. I find it the better way to familiarize with Bangkok canals than the usual tourist oriented, over-expensive options. Of course they mean business, and have to make their wages somehow.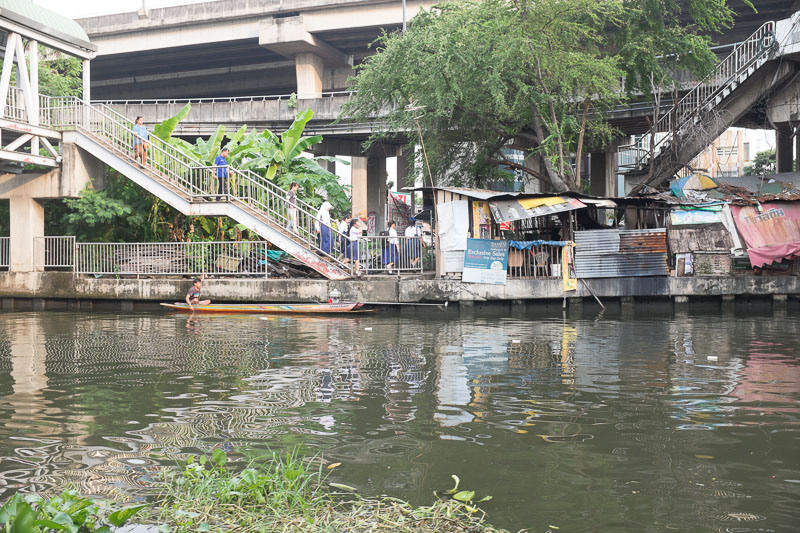 photo credits: matkalta.com
It was actually quite a coincidence that I found the long tail boat and the pier in the first place. The windows of the gym at my condo points towards the small canal behind the building and during my morning runs I noticed that there is a boat carrying people every hour or so. One day Wisa and I decided to find out where does it leave. It took us good two hour walk behind the surroundings of the condo, but finally we found a small pier and talked to few locals to close the deal that there actually was a boat stopping there.
For dinner we headed to Sukhumvit Soi 31 North Eastern Thai restaurant called Baan Isan Muang Yot. I used to live near there, and as a big fan of Isan food, as it's also called, used to be a regular. I find it a good option to take visitors, since most of them want to eat Thai food anyway, and it doesn't burn a hole in your wallet at the end of the feast. Their grilled fish and pork neck are the superstars (IMO)!
Thursday
Thursday saw the arrival of my beloved parents, and my sister, her husband and I headed to the airport illegally early hours. Their plane was to arrive at 7.25, which meant we had to be there that time, just in case. Well, it happened to be that their plane wasn't the only one arriving that time, so we have plenty of time to arrange for the minibus to take us back.
After a great breakfast at a local French styled cafeteria, everyone felt tired, so I got the afternoon off!
I had planned something special, since there were going to be total eight of us. Asiatique was new to all of them, so we headed there around 5pm. Asiatique is a fairly new appearance near the Bangkok riverside and was once a pier area belonging to East Asiatic Trading company. It has now been restored, trying to maintain the old feeling what it once was.  While my mom took my sister to the ferris wheel Asiatique Sky, and my friends went to do some shopping, the rest of us decided to enjoy some local breweries. Our choice of dinner was Baan Khanitha, located right next to where the boat from Saphan Taksin arrives. Thumbs up!
Friday
Friday the only survivors left were my parents. My sister & her husband had headed back to Finland in the morning, and my friends continued their 3 month long Asia tour up north to Chiang Mai. We had a quiet lunch at Black Canyon Coffee. I know, such a local choice! And since we got started with foreign delicacies, we went for dinner at a Japanese restaurant at the so very Japanese style Gateway shopping mall in Ekamai.
Saturday
As any local, we spent the Saturday at a local shopping mall (Central Rama 9). The plan was to do some shopping, mainly find jeans for my dad. Since it's not wise to do shopping with empty stomach, we started with a lunch at Lees Café. It's a good, inexpensive choice and most of the dishes have a bit of a western mix in the taste. Some call it fusion, but I don't think Lee's would qualify as a proper fusion restaurant. After coffee, we headed shopping – successfully accomplishing the mission.
Since I had experimented various dinner choices with my friends, and since the reception of the Isan restaurant at Soi 31 had been so praised, my parents insisted that we would go for dinner there. It did not let us down this time either: great food, poor service.
Sunday
Since we got into the manner of repetition and listening too much about what my sister and her husband thinks, I was forced to sit for another boat ride for the sunny Sunday afternoon. I literally know every house on that track now.
After a standard MK quality hotpot dinner, we headed to one of the largest parks in Bangkok. Located next to Queen Sirikit Conference Center, the Benjakiti park has been one of my favorite parks for running in Bangkok. It's a huge 1.5 km loop that circles a large pond that has a beautiful fountain. Now think of that lit in the evening, when hundreds of locals gather to celebrate Loy Krathong, by lighting a lotus-shaped containers that float on the water. What a nice end for a great, but tiring week.