Lumpini park filled up last weekend with people. It's a quite busy park over the weekends normally, but last weekend a street performance festival called Bangkok Street Show 2013 took place there. I had seen some random street shows previously, but the whole culture behind it was quite new to me.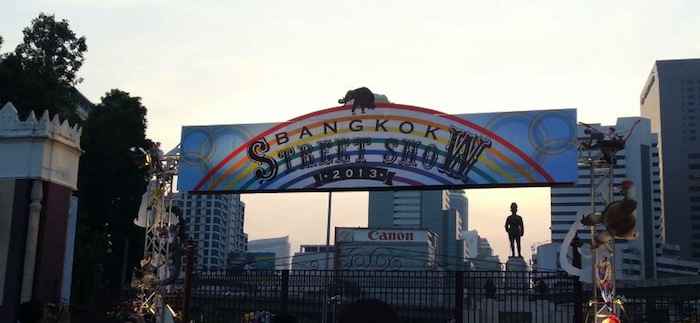 Street performance or buskers festival as it is also known, brings to together street performers of music, theater, dance, juggling, clowning, magic etc. There is a level of interaction with the audience and humor plays a key part, after all the purpose is to entertain. The performances usually last about 20-25 minutes. At the end of the show the artists expect to get money tips from the audience, and usually the funnier or better they are, the more they get. Giving money is not compulsory, but highly appreciated. Even a small sum such as 20B (0.70USD) did seem to do the trick here in Bangkok.
The Bangkok Street Show 2013 had a full two-day program of performers in nine stages, which were set all over Lumpini park. There was no admission fee to enter, so as you can imagine the event had attracted quite a number of people, blocking the foot paths and making it very difficult for the Sunday joggers to do their exercise. Most of the performers were from overseas, such as Japan, China, Australia, Europe and US, but some local talent was also present. In some parts of the world such as Japan and Australia (definitely not Finland) street shows are very popular, and would be great to see more of them in Thailand.
We only attended the on Sunday and saw a number of different style performances. KAJA from Japan, was the first on the list. His performance was a combination of magician and mime. He didn't say a single word during his act, but it didn't stop him being very funny. He used body language, whistles and signs to get the crowd to involved. Makes it easy for him to do his performance any where in the world. Most of his show was focused on street magic, some aimed for children. His final act was quite impressive. He picked 6 people from the audience, who held a rope about 5 feet from the ground. He then stood on the rope on one foot and juggled 3 one-foot daggers.

We saw some Laosian object theatre, Brazilian magician Diogo Alvares, who did some amazing tricks with coins, cards and cigarettes, and an aerial acrobatics show by Bencha Theater from Netherlands – it was quite stunning. No safety ropes or anything and they were really high up (check out the photos)!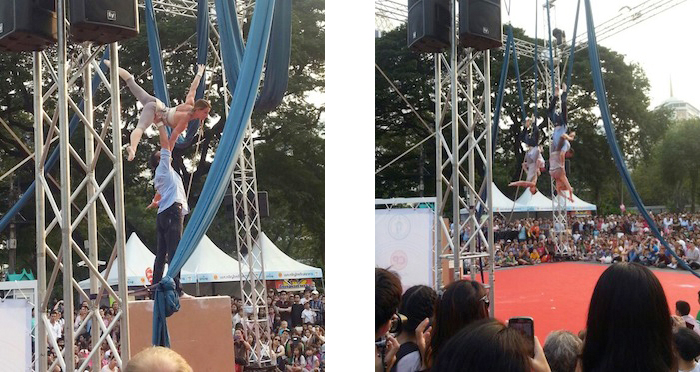 The last we watched was JackFlash from Australia. He was really good. The whole range of circus from juggling with 5 daggers, jumping rope and juggling with 3 daggers, one hand juggling tricks with four cups and so on. The amazing grande finale was a handstand on a tiny stool that was 15 feet high. Spiced up with humor, he was the star!